European Parliament election 2019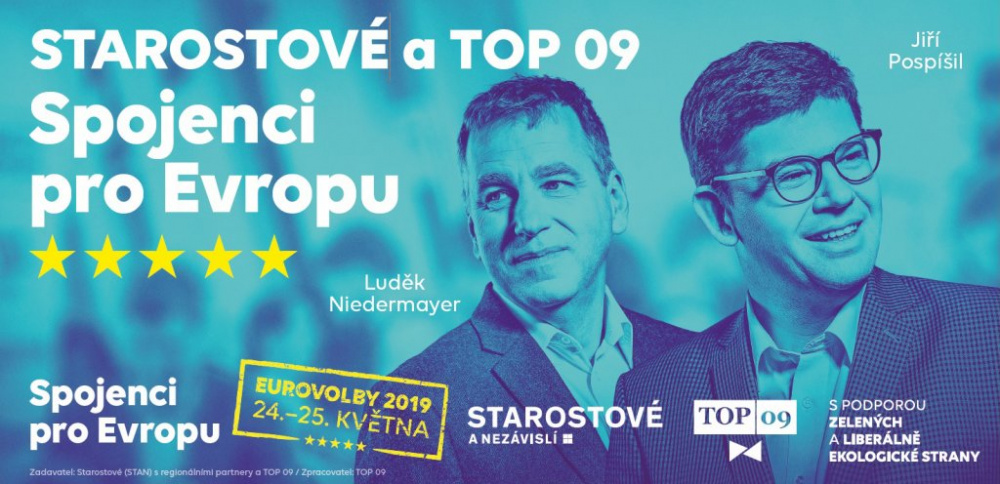 Spojenci pro Evropu (Jiří Pospíšil a Luděk Niedermayer)
Vote for Europe, Vote for Allies
Europe offers opportunities
The Czech Republic has an open, export-oriented economy. Because of this, our access to a market with more than 500 million inhabitants is crucial, and membership of the EU contributes to the rising standards of living of the majority of Czech citizens. We intend to continue to use European support to raise standards of living through high-quality communications and infrastructure systems, the accessibility of a high-speed internet connection, ecological transport services, and the increased accessibility of educational and social institutions. We intend to take responsibility for decision-making at the EU level and refuse to hide behind others.
Europe guarantees our security
Guaranteeing the security of all inhabitants of the EU is fundamental to the continued existence of the Schengen area. The Europe we need is a safe home for its citizens. The stability and safety of Europe can only be guaranteed by negotiations, cooperation, solidarity, and a mutual trust between member states. The Czech Republic must be an active and contributing member in these negotiations. We must be united in standing up to the threats to our citizens' safety.
Europe protects the environment
We have a responsibility towards future generations. The European landscape and environment must not be destroyed by agricultural, industrial, and mining interests. We will continue in promoting a sustainable approach to the environment in all EU member states, primarily as regards the quality of air, soil, and water. We will support steps aiming to increase health and environmental protection, and we will not support anything detrimental to the environment.
Europe supports regional development
We will enforce that European funds directed to the Czech Republic are utilised to their fullest potential, primarily in areas relating to the support of municipalities, small and middling businesses, and farmers, who respect the environment and invest in innovative technologies. EU subsidies must be directed towards sectors which act in the public interest, and not towards further support of large firms and businesses. We refuse that any grants for the development of the regions be made dependent upon fulfilling the political decisions of the EU.