Pekarova Adamová: Ukrainians will go down in history
If there is one nation that will go down in history by changing the geopolitical and security reality in Europe for the better, it will be the Ukrainians, said Markéta Pekarová Adamová, the Speaker of the Czech Chamber of Deputies, at a meeting of the Speakers of the Parliaments of NATO member states in Vilnius today. In the Lithuanian capital, she also supported Ukraine's accession to the North Atlantic Treaty Organisation.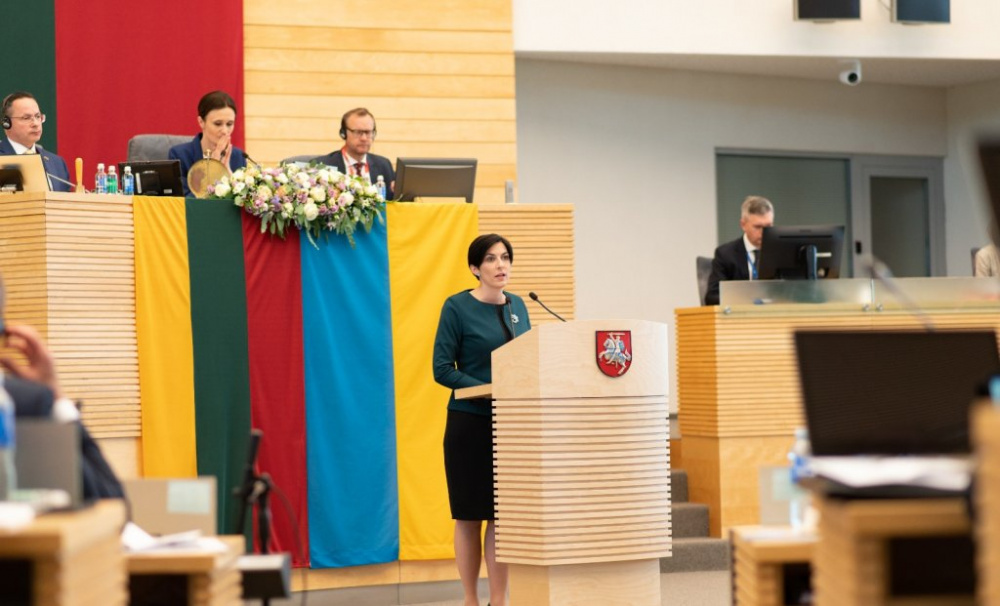 2. 6. 2023
The 1997 NATO-Russia Founding Act must be repealed, the head of the lower house called for in a speech, the written form of which is available to the Czech News Agency.
Pekarova Adamová expressed her hope that Sweden, whose accession has not yet been approved by Turkey or Hungary, would join NATO's ranks after Finland. But she said the door should remain open to others. She spoke specifically about Ukraine.
"Their contribution to our security would in itself be reason enough to offer them NATO membership. But there are other reasons. If we leave Ukraine standing at the alliance's door, we will create a grey zone, a space that Russia will soon want to attack again," Pekarova Adamová said. She said Ukraine should be given a clear perspective for its membership in the bloc. She also rejected the idea that its membership would mean escalation against Russia.
"Let's admit that formal political relations between NATO and Russia no longer exist," Pekarova Adamova said, saying the NATO-Russia Founding Act, which governs mutual relations and security between the alliance and the Russian Federation, must be repealed. "We must refrain from returning to normal relations because the Russian threat is unlikely to disappear completely in the near future," she added.
Russia militarily invaded Ukraine on February 24 last year, since then the invading forces, which have encountered tenacious Ukrainian resistance, have withdrawn from a number of regions, and in recent months there has been talk of a planned Ukrainian counter-offensive to retake Russian-occupied areas in the south and east of the country. The West is supporting Kiev with, among other things, arms supplies.
Ukraine's accession to NATO
The possibility of Ukraine joining NATO will be discussed at the Alliance Summit in Vilnius in July. Alliance Secretary General Jens Stoltenberg said on Thursday that member states agree with Ukraine's membership and support Kiev in its defence against Russian aggression. But German Foreign Minister Annalena Baerbock also stressed that a country at war cannot join NATO. Hungarian diplomatic chief Péter Szijjártó said the summit should not even discuss a timetable for Ukraine's entry into NATO.
In her speech today, Pekar Adam also said that NATO is responding to new threats and is about to make the most radical change in its deterrence and defence policy since the early 1990s. She mentioned, among other things, the strengthening of the military presence on the eastern flank of the alliance, the preparation of new operational plans and/or the increase in national defence spending. "I will give a fresh example from the Czech Republic, where a draft law on the financing of the Czech Republic's defence is now being discussed. If this legislation is approved, which seems very likely, it will make two percent of GDP on defence a mandatory minimum," she said.