Karel Schwarzenberg, former foreign minister and chairman of TOP 09, is on the new team of advisers to President Petr Pavel
In an interview with the weekly Respekt, he says he likes Pavel´s political instincts and his moderation. "I think he's smart enough, and so far what he's doing, he's doing great, I have to say. Much better than I thought," Schwarzenberg says.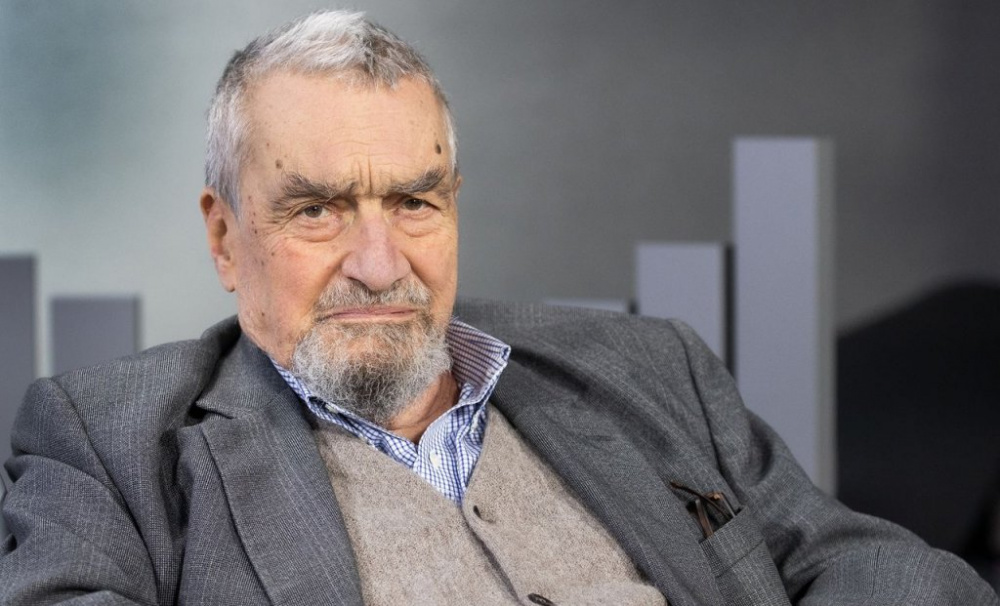 5. 6. 2023
I recently met you at the site of the former Romani people concentration camp at Lety u Písku, where a commemorative event was held to mark the 80th anniversary of the transport of Romani people to Auschwitz. You are no longer in any capacity, why did you feel the need to go there?
I want to express my solidarity and sympathy with the Roma. I consider it decent and necessary. One of the speakers on the platform said that we are still not treating them well, and I share that. And I'm also a neighbour from Lety. We had an estate nearby, Orlík Castle, I still remember it as a child.
What exactly do you remember?
I had a strange experience when I was a kid. First we weren't allowed to go to Orlík. So my father was not allowed to go to his castle during the Protectorate, according to Reinhard Heydrich's orders, and we had to move to Čimelice. We were inconvenient for the Nazis, and my father refused to become a Reich citizen, claiming Czech nationality. They put our property under forced administration.
After the war, when everything was returned to us for a while, even the horses were among them. They interested me most of all. I was always in the stable, I loved my pony and also our coachman Mr. Bartos. It was a joy when we hitched up again in May 1945 and went for a ride with my father.
But on the way I suddenly felt such a terrible burden, I still remember it. I turned to my father at that moment and asked what was there that I felt something very unpleasant? He looked at me and said: there were terrible things happening here, when you are grown up I will explain it to you. It wasn't until much later that I learned that we had just driven past Lety.
How did you eventually find out about them?
Actually, not from my father, I read about the camp in Austria when I was an adult living there, after the Communists expelled us for a change.
After 28 years, President Petr Pavel came to Lety, continuing the tradition of Václav Havel. You had a chance to talk for a while, what did you talk about?
Fortunately, the president was finally there again. We greeted each other, exchanged a few words. A story came up about how some time ago the neo-Nazis brought a counter-parameter to Let, it was a rock. They questioned the tragedy. So I took a truck from the forestry headquarters, stole it from them and put it in the forest among the rubble of rocks for them to look for. That's what I told the president and we laughed about it. 
Is it important that the head of state has reappeared in Lety?
He can get more people to start treating the Roma as normal people, because they are our fellow citizens and have been here for a couple of centuries. So we shouldn't keep shoving their children into extra schools, evicting their parents in the cities to the outskirts, to some strange barracks. When the President showed up in the Lety, he sent a signal that we should respect them.
The communists built a pig farm in Lety, it was only bought out by the government of Bohuslav Sobotka, and now a dignified memorial is being built there. You've been in several governments, even you failed. What was it?
Our governments ended prematurely, so we couldn't fulfil everything.
You came to Let in a wheelchair, assisted by an assistant. How is your health?
Well, as you can see, I'm in a wheelchair even during our interview, which is really getting on my nerves. I'm deaf and can only talk to you with the help of hearing aids and my eyes are going away. So my health is miserable.
Old people often complain about various pains, ailments, the fact that their loved ones and friends are dying. But what is beautiful about old age?
I don't think anyone has discovered it yet, to tell you the truth.
Well, you see, and I wanted to ask you afterwards, what is the most beautiful thing about it?
When you can't feel it.
Can anyone manage not to feel old?
For a while, yes, but then you'll go off duty again, or maybe you'll fall. It's a stupid condition.
What gives you the most joy at the moment?
The grandchildren of the time.
Diplomat Petr Kolář makes up a team of external foreign policy advisers to the head of state. You're part of it. You met with President Paul a while back. What did you two talk about?
It was at the Castle, first there was a lunch with the foreign advisers without the president. Then we were all with him. This time it was more about how often we would meet and so on. No big questions yet. China was briefly discussed.
Chancellor Jana Vohralíková said your job would be to "smarten" Pavel. Can you think of anything in particular you'd recommend?
I think he's smart enough, and so far he's doing what he's doing brilliantly, I must say. Much better than I thought. He really has a political instinct, and I have to say I appreciate his sobriety. Let me give you an example. I liked it when he said that we were all rooting for Ukraine, but he warned that this was not the time to show premature euphoria. He described factually all the difficulties and complexities of the ongoing war. He is going to Austria at the beginning of June, I am looking forward to going too, after all I am quite familiar with it, he not so much.
Will you accompany him to Vienna from Prague as part of the delegation?
I won't go with him, I'll go as an extra. Thankfully, like the rest of the delegation, I am not dependent on hotel accommodation. I'm going to my own apartment.
I understand that sleeping in the Schwarzenberg Palace has its advantages.
Sure, it's central and the bed is more comfortable. A good night's sleep, as we know, is important for the success of subsequent political negotiations.
You once told me that the Austrians are very similar to the Czechs in many ways. And I wonder whether this is still true, since our government has been helping Ukraine a lot since the beginning of the Russian aggression, and the Austrian one has not been trying too hard.
About the similarity. Most of Austria and the Czech Republic are one nation in two languages. We have the same weaknesses, bad qualities, but also good ones. Just look at the names, how many in Austria are Czech and vice versa.
I will never forget a wonderful experience in the early 1990s when Václav Havel met with the Austrian government at an exit meeting at the castle in Židlochovice. On the Austrian side, sitting opposite him was a Viennese Czech, at that time Minister of Finance Lacina, a beautiful name for the head of the treasury. (In Czech "laciný" means cheap). Then there was the future Chancellor Vranitzky and others. On the Czech side, there was Foreign Minister Dienstbier, Finance Minister Klaus and Chancellor Schwarzenberg.
As far as Ukraine is concerned. Austria has been a neutral country since the 1955 state treaty. Neutrality has cost them a lot of money in the past decades, so they stick to it carefully, even if their sympathies are on the Ukrainian side. I know them and knew that would be the case. I am of course glad that the Czech Republic is heavily involved. Czech and Austrian politics are commendably different in this respect, but I would say that it does not change the common basic national characteristics, the principles of behaviour.
So you can impress Petr Pavel with your knowledge of Austria, for example. But who's been smartening you out recently, if there's been one? Or do you already know everything?
I don't know anything! The books by the historian Snyder, they have taught me a lot, I must say. Then sometimes I think about the various discussion posts, what old Kissinger or other educated people have said. I enjoy it when someone has a different opinion, it helps me think.
After his election, President Pavel had a phone call with Taiwanese President Tsai Jing-wen alongside the Ukrainian President. And he mentioned that he might meet her in Prague later this year. This will undoubtedly irritate China, which regards Taiwan as a breakaway province and resents any contact between the island's politicians and those of the West. Should Pavel receive President Tsai?
She should be received, of course yes.
What should such a reception look like, should it take place at Prague Castle, or should it be more informal?
A little more informal, I would skip the ceremonialities in this case. After all, we follow the one-China policy. But that does not mean that we are going to let China dictate to us what we should do or not do with regard to Taiwan, who we should associate with or not associate with. I absolutely reject that.
What further developments do you expect to see in Taiwan? Will China attack it militarily, as is increasingly being talked about?
Taiwan is a great fortress, they've been really arming themselves over the last seventy years, there's a steep coastline, so it wouldn't be easy to carry out an invasion. But what the Chinese will do, you never know. They may go crazy and start a war, although I don't foresee that happening yet.
If Beijing decides to go for it, is there any way Europe can avert it?
No. China is already too strong to take us into account if it says it will attack.
What would be the impact of a war over Taiwan on Europe, specifically on its centre?
We would not be the only ones to feel it economically. There are chips being made in Taiwan, there are other modern technologies there. There would be a logical shortage of them. You cannot forget the geopolitical aspect. A war in Asia would keep the Americans busy and they would have less time and less inclination to deal with our European problems. That would be unpleasant.
In 2013, you spoke as chairman of the foreign affairs committee of the parliament at the Maidan in Kiev, where people protested and later died for the democratisation of the country and Ukraine's European path. "The Czech Republic is with you!" you said from the podium. What impressed you most about the Maidan at that time?
As you know, it took place in November, so it was dark early on, and when I was invited to speak, it was really quite dark. Judging by the echoes of the demonstrators, I found out that there were a huge number of people there, at least a hundred thousand. And they were very determined. I realised that the idea that Ukrainians are divided in terms of their future does not correspond to reality. The majority wanted Europe. 
Russia attacked Ukraine for the first time just a few months after your visit to the Maidan, and for the second time with a major war attack last year. Today, the fighting is standing still, waiting for the Ukrainian offensive. What would a good and satisfactory end to this war look like for Ukraine?
To get all the lost territory back.