TOP 09 delegates elected new EPP leadership in Rotterdam
Last week'Äôs EPP Congress in Rotterdam (31 May 'Äď 1 June) was an electoral one. EPP delegates with voting rights not only elected a new leadership but also adopted the Congress paper and resolutions that shape and define our vision for Europe.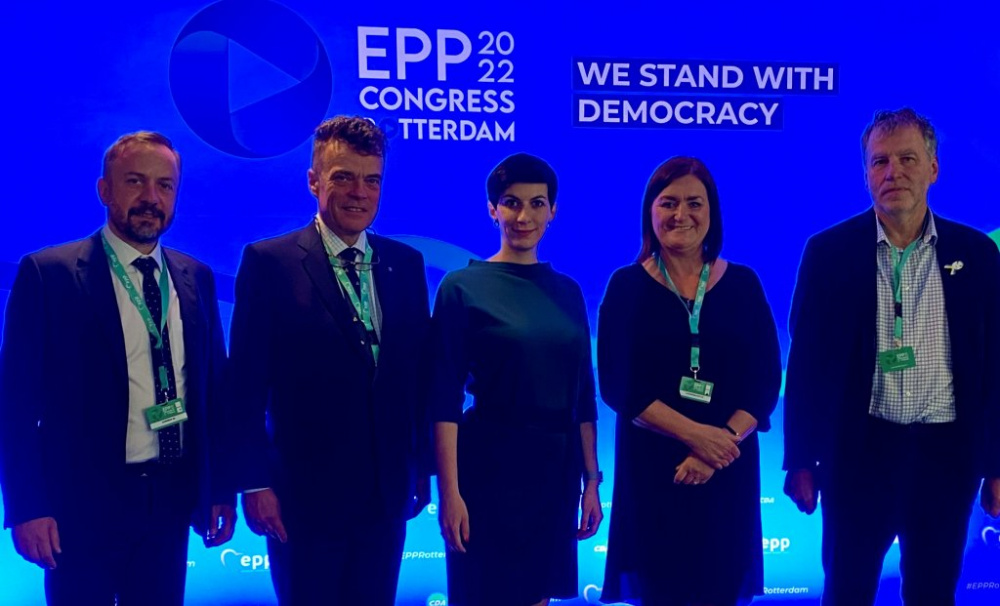 The TOP 09 delegation at EPP Congress in Rotterdam 2022
9. 6. 2022
The TOP 09 delegation was represented by the president of TOP 09 Mark√©ta Pekarov√° Adamov√°, MEP Ludńõk Niedermayer, minister Helena LangŇ°√°dlov√°, senator Tom√°Ň° Czernin, member of parliament Marek ŇĹen√≠Ň°ek, secretary general Miriam Faltov√° and international secretary Eva ҆afr√°nkov√°.
This Congress marked the end of the mandate of EPP President Donald Tusk. An ardent defender of the rule of law and European values, Tusk has led the party through difficult times marked by a global pandemic, the erosion of democratic principles and the Russian invasion of Ukraine. Manfred Weber was elected as the next president of the EPP. The delegates elected ten Vice-Presidents and a Treasurer. The new EPP Presidency is comprised of (in order of the number of votes received):
Vice-presidents:
Mariya GABRIEL, GERB, Bulgaria
Esther de LANGE, CDA, the Netherlands
Johannes HAHN, Die Volkspartei, Austria
Siegfried MURE»ėAN, PNL, Romania
Dubravka ҆UICA, HDZ, Croatia
Petteri ORPO, Kokoomus, Finland
David McALLISTER, CDU, Germany
Andrzej HALICKI, Civic Platform, Poland
Antonio TAJANI, Forza Italia, Italy
Esteban GONZ√ĀLEZ PONS, Partido Popular, Spain
Treasurer
Paulo RANGEL, PSD, Portugal
Following the proposal of President Weber, the Congress delegates elected Thanasis BAKOLAS as the new Secretary General of the EPP.¬†¬† In a moving moment, delegates paid tribute to the Ukrainian people who are fighting an unjust war, not only for their country and values but for the European way of life. In recognition of his dedication to the fight against disinformation and corruption in Russia, the EPP Merit Award was bestowed on Alexei Navalny in absentia. Alexei Navalny tirelessly promotes freedom of speech, as well as free and fair elections. The Congress delegates also adopted a paper titled 'ÄúThe Europe we want to build, emphasising our values and responding to new challenges,'ÄĚ as well as 14 resolutions
Newly elected EPP President Manfred Weber: "I am extremely proud to be elected President of the biggest political party in Europe and I am humbled to be able to continue in the footsteps of EPP leaders like Donald Tusk. Together we say no to a Europe of mistrust of the populists, that polarises people and destroys our future. We say no to a Europe of the elites and their top down approach. We are the party that is closest to the day to day realities of citizens. More than ever we will work to unite our societies and we will never stop fighting for a better and stronger EU for the people of Europe."
'ÄěGathering the entire European family together is always a great opportunity to get an overview of the issues and urgent matters that concern our neighbours. It's also the perfect time to talk face-to-face and share our experience,'Äú says the president of TOP 09 Mark√©ta Pekarov√° Adamov√°, who shared her views on the upcoming Czech Presidency of the Council of the EU and its key priorities during a panel discussion with Roberta Metsola and other distinguished speakers at the congress.
She stressed also her firm commitment to help Ukraine in its struggles and rebuild it once the war is over.
Eva ҆afr√°nkov√°, International Secretary of TOP 09