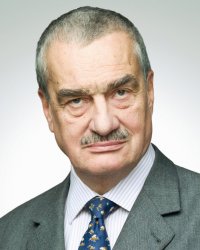 In 2009 all the European countries signed the Lisbon Treaty. Only the Czech President was extending the adoption of Lisbon Treaty by his repultion to sign it. TOP 09 is the party which respects the European values and that is why we made a Lisbon Treaty Appeal in media and Karel Schwarzenberg made a declaration:
In a few days it will be exactly twenty years from the events in 1989 when our country came back to democracy after a long time of totality and lack of freedom. We started to live in a free society and we wanted to come back to Europe.
I am addressing on you because I am convinced that this aim have not changed. A number of us believe that the future of our country is possible only by being in the family of European nations. Thanks to this community we live in peace for more than half a century.
Today we are asking what have changed in last twenty years. Why is our country loosing its credit? Why are we damaging our character in this time when we are governing Europe? Why are we not able to establish our government and why we are changing the date of election? Why do we refuse to confirm the Lisbon Treaty, when other countries have already confirmed it?
I am afraid that Europe no longer understands us. Many of us still believe that it is in our interest that the EU has enough strong and unified voice in the global world. And for us is also important that Czech Republic would be the respectable and trustful partner in Europe. We cannot move ourselves out of the position in which we can also participate on important decisions. For defending our interests we cannot leave the positions which allow that.
That is why we decided to ask citizens, who agree with our attitude, to demonstrate their opinion and to sing our appeal. We cannot turn the way back after twenty years of going along.
I believe that we can do things better but without your cooperation and your voice all the effort will be useless.
Karel Schwarzenberg
president of TOP 09
Contact us

Michna palace, building n. 2
450/40 Újezd
118 00 Prague 1
Czech Republic