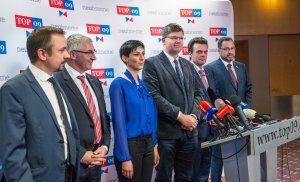 Ladies and Gentlemen,
Welcome to the TOP 09 website!
TOP 09 is a conservative party established in the Czech Republic in 2009. The abbreviation TOP stands for Tradition (in Czech "Tradice") – Responsibility ("Odpovědnost") – Prosperity ("Prosperita").
The political programme is based on three main objectives:
to maintain and deepen the rule of law and democracy,
to pursue responsible policies with sound public finances, and
to build a stable economy based on a free market and non-discrimination.
Bearing in mind the importance of cooperation within the European Union TOP 09 has been a member of the European People's Party since February 2011.
I hope that you will find the information in this website useful. You may surf through the party's structure, including the main leaders or you learn about our history and election results.
Thank you for visiting our website.
Karel Schwarzenberg
Honorary Chairman of TOP 09
Opletalova 1603/57
110 00 Prague 1
Czech Republic
TOP 09 has a new version of statutes, they were approved by the Executive Committee on 19 April 2011, registered by the Ministry of the Interior of the Czech Republic on 28 April 2011. You can find them  here.
You can find the election programme  for the election to the Chamber of Deputies in 2010, the very first election for TOP 09,  here.
The document about TOP 09 main  values (Tradition, Responsibility, Prosperity) can be found here.
2014 European Parliament Election
Are you going to visit the
Czech Republic?
We can recommend you some interesting places to see.
Read our Who Where Why Book.
Karel Schwarzenberg addresses the EPP Congress in Bucharest